By Bob Lipinski
What could be more alluring than a glass of whiskey on-the-rocks or an arctic cold martini in a Y-shaped glass adorned with several pimento-filled green olives? Although I love an ice-cold martini and certainly a glass of whiskey with ice; a glass of brandy on a chilly winter day is a great body heat rejuvenator. Smelling its rich, fiery, heavily perfumed bouquet and its smooth, velvet-like texture and luxurious aftertaste, beckons a second glass.
To make this holiday season really festive, I've included a list of some of my favorite spirits (that will hopefully become yours).
Laird's Applejack, made in Scobeyville, New Jersey, since 1780. It is an apple brandy, dry and full of rich apple flavors. I like it either in a brandy snifter or sometimes on the rocks while listening to relaxing music.
Auchentoshan (awk-en TOSH-an) "Three-Wood" Single-Malt Scotch Whisky from the Lowlands. It has been aged in three different wood types: Bourbon, Spanish Oloroso Sherry, and Pedro Ximénez sherry barrels. Spectacular flavor.
Bols Genever 84 proof, Holland: Housed in a tall, cylindrical smoked glass bottle. Genever is the predecessor of gin… originally made in 1575 by Lucas Bols. Because of distillation at considerably lower temperatures than gin, it displays some of gin's characteristics but leans more to the taste of an unaged whiskey. It's great over ice with a wedge (not a twist) of lime. Hint: put Genever into a cocktail shaker with plenty of ice and lime juice, and then shake vigorously for 10 seconds. Pour into a tumbler, rim with the lime wedge, and enjoy. (The biggest problem you will face is that with this drink, the bottle empties rather quickly.)
Citadelle Gin 88 Proof, France: This gin must be tasted to be believed. Made from an astounding, 19 botanicals (most other gins are made from 10 or less).
Boodles British Gin. 90.4 proof, England: Its smooth texture, hints of spice and floral nuance add distinctive elegance to an ordinary cocktail. It is noted for its squared shoulders and majestic label. Boodles is produced using the same recipe originated by the Cock, Russell & Co, Ltd. in 1845 and is one of only a few gins that does not contain citrus flavored botanicals. (A gin martini made with Boodles Gin will probably be my lunch… or maybe dinner provided olives are included!)
Black & White Blended Scotch Whisky. On its label there is a black Scottish terrier "Scottie," and a white West Highland dog, "Westie." I have been enjoying this Scotch for decades.
Campari from Italy. Campari, which is bright red, has a bouquet and taste of bitter orange, cherry, ginger, lemon, licorice, orange zest, and strawberry, with a bittersweet aftertaste.
Drambuie Liqueur from the Isle of Skye in Scotland. It was first produced in 1745, from a blend of Scotch whisky and heather honey-based liqueur. Its classic cocktail called a Rusty Nail consists of equal parts of Drambuie and Blended Scotch Whisky.
Zubrówka Vodka from Poland and other Slavic Countries. It has a yellow-green tinge and a distinctive smell and taste of spring flowers, thyme, lavender, and freshly mown grass, which is derived from various botanicals that have been added.
Moletto "Tomato" Gin, Veneto, Italy (86 proof). Perhaps the most incredible gin I've ever encountered! Yes, the familiar juniper berry notes along with rosemary, mint, basil, and hint of citrus are there, but the kicker is an initial burst of fresh tomatoes! This gin was macerated with tomatoes from Italy.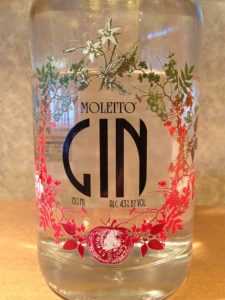 Chartreuse "Green" Liqueur. This world-famous liqueur was originally formulated in 1605, in Grenoble, France by St. Bruno. Licorice and flower aromas, with sweet herbal notes. Sweet middle and finish, with flavors of herbs, licorice, white pepper, and burnt flowers. Very elegant and well made.
Baker's 7-year-old Bourbon, Kentucky. Baker's Bourbon is 107 proof and is very aromatic with a sweet, smooth, medium finish. It has a warm amber, tawny, nut-brown color with a bouquet of fruit, caramel, and vanilla. It tastes of toasted nuts, fruit, and sugar-vanilla, with a silky texture. The aftertaste is warming and sweet, with a medium-long aftertaste.
Hine Antique XO Cognac. Created in 1920 by George Hine. The taste is mellow and supple with a wealth of sustained flavors, floral nuances, hints of honey, leather, and a pronounced taste of vanilla, carried by finesse and endurance. Velvety smooth and extremely elegant.
"Christmas at my house is always at least six or seven times more pleasant than anywhere else. We start drinking early. And while everyone else is seeing only one Santa Claus, we'll be seeing six or seven." (W.C. Fields, 1880-1946, American Comic and Actor)
Bob Lipinski is the author of 10 books, including "101: Everything You Need To Know About Whiskey" and "Italian Wine & Cheese Made Simple" (available on Amazon.com). He conducts training seminars on Wine, Spirits, and Food and is available for speaking engagements. He can be reached at www.boblipinski.com OR bkjm@hotmail.com