By Bob Lipinski
Thanksgiving signifies family, food, drink, fun, history, and tradition, all wrapped up into one mid-weekday.
The Pilgrims held the first Thanksgiving Day in the autumn of 1621 to celebrate their first successful harvest season. Wild grapes were fermented to make wine for the celebration. Afterward, Thanksgiving was celebrated sporadically until 1789, when President George Washington proclaimed a day for public thanksgiving and prayer to acknowledge God's favor in establishing our republic. Still, it wasn't until 1863 that President Abraham Lincoln designated the fourth Thursday in November as the national day of Thanksgiving. We've been observ­ing it as a holiday since that time.
Before you roast the turkey, check out my two "cooking tips."
1) Roast the turkey with the back side up (except for the last hour of roasting). Fat from the "fat glands" in the back will melt and baste the turkey during roasting.
2) Truss up the Thanksgiving turkey with dental floss. It's cheap, it's sturdy, and it's easy to work with. Just be sure you use un-waxed and unflavored floss.
My next "cooking tip" will guarantee a golden-brown turkey, which will be the envy of all sitting around the dinner table. Take a bottle of red sweet vermouth, sweet Marsala, or cream sherry, and pour two glasses. (Hint: the first glass is for the chef.) Now, take a clean paintbrush and using the second glass of sweet wine, paint the entire turkey — legs, wings, top, bottom and so forth. Place the turkey into the oven and every half-hour repeat this important step. When the turkey is finished cooking, the color will amaze everyone. Addition to color, the wine will drip into the bottom of the pan, which will energize the flavor of the drippings often used for making gravy.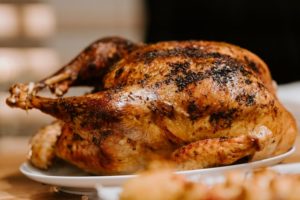 Laird's Applejack is also excellent for basting or creating a glaze for your turkey and an essential ingredient for stuffing, which is generally made with apples. Just add 1/4 to 1/3 of a cup of applejack to your stuffing before cooking.
Turkey is inherently dry (especially when overcooked) unless brined or basted. Before I recommend a few wines, let's give some thought to what we often spread over or eat with pieces of turkey. I hope you said cranberry sauce! Cranberry sauce is sweet and inherently tart, offering moisture, flavor, and a berry character to the turkey. Therefore, we want to pair turkey with dry or even off-dry wines, providing they have plenty of fruit.
Here's a unique way to cleanse your palate in between courses.
Cranberry Ice
12 ounces firm, fresh, unblemished cranberries
8 cups warm water
1 cup sugar
Juice of 1-1/2 lemons
Wash cranberries under cold running water. Combine them with the water in a 4-quart stainless-steel pot, add sugar, and bring to a boil. Reduce heat to low, cover and simmer for 10 minutes, or until the cranberries can easily be mashed against the side of the pot with a wooden spoon. Allow mixture to cool.
Purée the cranberries with their cooking liquid in a food processor in several batches until most of the skins are broken down, then pour into a large stainless-steel pot and stir in the lemon juice. Then place the bowl into the freezer for 3 to 4 hours stirring and mashing every 30 minutes. When ready, spoon into stemmed glasses and serve.
You can add 1 ounce of vodka, rum, gin, or tequila to a cup full of the cranberry ice.
Now, let's get into pairing wines with the finished bird. My wine suggestions for Thanksgiving are:
Whites
Albariño
Chardonnay (no oak)
Chenin Blanc
Gavi (Cortese grape)
Grüner-Veltliner
Pinot Grigio (or Pinot Gris)
Riesling (dry, off-dry)
Sauvignon Blanc
Torrontés
Vermentino
Red & Rosé
Barbera
Bardolino
Beaujolais (Gamay grape)
Chianti (Sangiovese grape)
Dolcetto
Petite Sirah
Pinot Noir
Shiraz
Tempranillo
Valpolicella
Rosé (Provence, France)
Dessert
Brachetto d'Acqui
Malvasia
Moscato (Asti)
Riesling (semisweet)
Sauternes (or Barsac)
After the feast, complete your Thanksgiving holiday with a tumbler filled with ice and a heavy dose of Wild Turkey bourbon whiskey from Kentucky.
Well, there you have it…wines to satisfy even the hungriest, most discriminating guest. Just be certain to save room for another slice of pumpkin pie.
"Fill every beaker up, my men, pour forth the cheering wine: There's life and strength in every drop, Thanksgiving to the vine!" (Albert Gorton Greene, 1802-1868, American judge and poet)
Bob Lipinski, the author of 10 books on alcoholic beverages and food, consults and conducts training seminars on Wine, Spirits, and Food, and is available for speaking engagements. He can be reached at www.BobLipinski.com OR Bob@BobLipinski.com
Please follow and like us: