By Bob Lipinski
As an author and professional taster, I generally taste and evaluate more than 100 alcoholic beverages (wine, spirits, beer, and saké) per week. Some are good, some are very good to excellent, while others are not very good.
During the last month I had an opportunity to taste some very interesting wines and spirits that I'd like to share with you.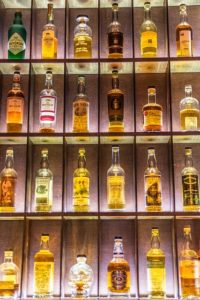 Moletto Grappa di Prosecco, Italy (80 proof) Crystal-clear with a delicate, refined and perfumed bouquet of pears, fennel, and chamomile flowers. Surprisingly smooth with hints of ginger, orange, and apples. Serve slightly chilled.
Lazzaroni Amaro Liqueur, Italy. Dark brown-colored with an intense bouquet of ginger, spices, cloves, rhubarb, and cola. Semisweet with flavors of peppermint, black pepper, herbs, and a touch of bitterness. Great over ice or as a tall drink with some sparkling mineral water.
Laird's "Straight" Applejack "1780" Scobeyville, New Jersey, 86-proof. Made from an astonishing 17 pounds of apples including Winesap, Fuji, Red and Golden Delicious, McIntosh, Granny Smith and Jonathan. Amber-colored with overtones of baked apples and cider. Very complex and full-tasting with flavors of apples, burnt sugar, vanilla, and orange peel. Warming, smooth finish and very long aftertaste. I love this straight with some ice cubes with perhaps a splash of water. It is superb!
Richland "Single Estate" Rum, Georgia, USA: Made from pure sugarcane grown in the state of Georgia. Amber-colored with a distinctive bouquet and flavor of cinnamon, grass, vanilla, nutmeg, maple syrup and spices. Smooth with virtually no burn. Excellent rum.
Absolut Ruby Red Vodka (Sweden): I am a Scotch n' soda drinker and generally don't drink "clear spirits" with seltzer. Boy was I surprised when I added ice and seltzer, then gave it a stir with my swizzle stick and brought it to my nose. Powerful aromas of grapefruit abounded. I drank deeply and was rewarded with flavors of grapefruit that continued well into the second sip. Absolutely (pardon the pun) delicious!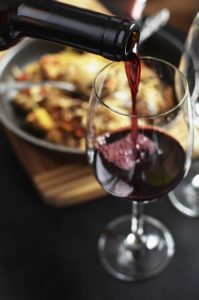 2016 Ferrari-Carano "Fumé Blanc" (Sonoma, California): Perfumed bouquet loaded with honeysuckle, melon, and stone fruit. Flavors of dill, pineapple, citrus and passionfruit. Don't miss a bottle.
2017 Hecht & Bannier Côtes de Provence Rosé, France (blend of Grenache, Cinsaut, and Vermentino). Dry and very clean with flavors of strawberries, red cherries, and plums and a lingering berry aftertaste. Perfect for summertime!
2015 Steele Zinfandel "Pacini Vineyard," Lake County, California (aged 12 months in oak). Bouquet and flavor of spicy cherries, cranberry cola, and menthol with undertones of vanilla, nutmeg, and dried plums. Big mouthful of a well-made-wine.
2017 Rei Manfredi Bianco, Basilicata, Italy (blend of Müller-Thurgau and Gewürztraminer) Really perfumed with citrus overtones and flavors of litchi, jasmine, and tropical fruit.
2017 Rapitalà "Piano Maltese" Sicily, Italy (blend of Catarratto, Grillo, and Chardonnay). Dry, clean and crispy with an aroma and flavor of citrus, pears, delicious apples, and roasted almonds, Slightly tart with a wonderful aftertaste.