By Bob Lipinski
I've been making this pasta recipe for decades and it always seems to be my "go to" dish when I'm tired or just need some energy. It's simple to make, takes less than 30 minutes, and pairs well with both red and white wines.
Recipe: Shell Pasta with Chickpeas and Tomatoes
1 pound pasta shells (conchiglie), cooked al dente
¼ cup olive oil
2 medium-sized onions, sliced thin
¼ cup dry white vermouth or white wine
1 (28-ounce) can crushed tomatoes
1 can chickpeas, drained and rinsed
½ cup cooking water
Salt and black pepper to taste
2 tablespoons fresh parsley, chopped coarse
Heat oil, then add onions and cook over medium heat until translucent. Add the vermouth, raise temperature to medium-high and cook for 1 minute. Then add tomatoes, chickpeas, and water; adjust seasonings with salt and pepper. Bring to a boil, then simmer uncovered for 10 minutes. Add parsley, then pour sauce over the cooked pasta and serve.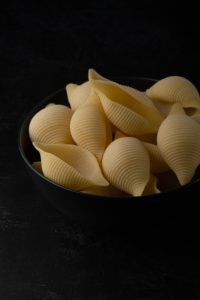 Bob's Wine Recommendations: (White) Pinot Bianco, Soave, Sauvignon Blanc; (Red) Barbera, Valpolicella, Shiraz
Bob Lipinski, the author of 10 books on alcoholic beverages and food, consults and conducts training seminars on Wine, Spirits, and Food, and is available for speaking engagements. He can be reached at www.BobLipinski.com OR Bob@BobLipinski.com